Want to combine a tiny house with backyard excitement? Or maybe you have 2 kids and one want's a space of their own and the other wants excitement, to climb and jump. Maybe a playhouse swing set is just what you need and what your children are looking for!
Clubhouse vs Playhouse
Here at Swing Set Nation, we offer a clubhouse and a playhouse, but what makes both of them different? Let's go over how we categorize them and see which ones will work for you!
Clubhouse Swing Set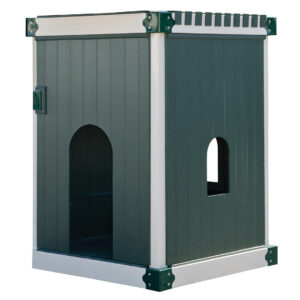 A clubhouse can be many things, but how we categorize it is by the walls and the placement! Here, a clubhouse goes under the tower as shown on the KC-1. The walls are made out of thick poly duckboards that go with the color scheme you choose when designing or ordering! Meaning they do not bend or flex and stay strong and sturdy. You can complete them with window and door cutouts or maybe just add them to two or three sides instead of all four!
Play House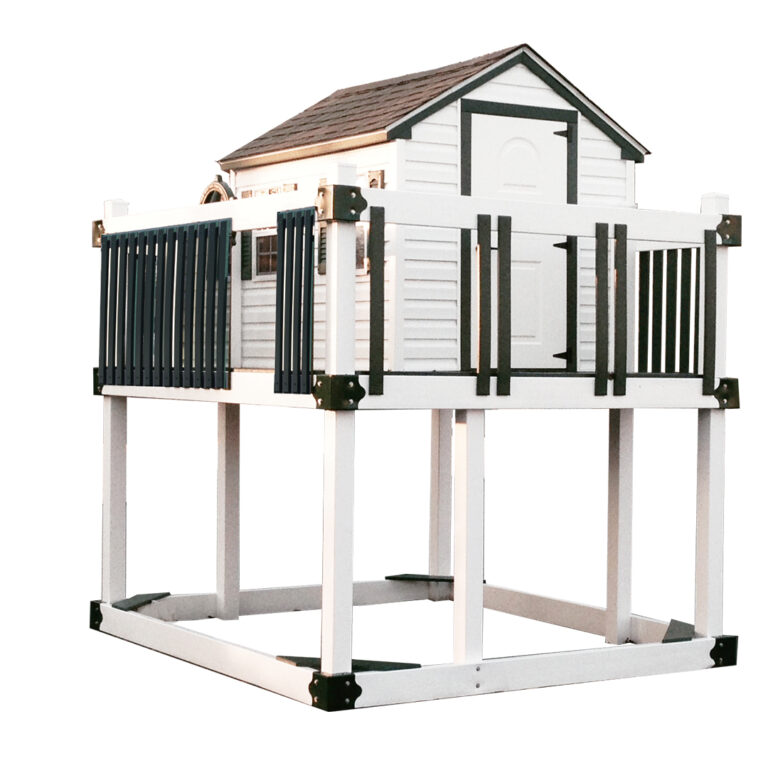 Now a playhouse is a different category! This is categorized by the top of the tower. A playhouse features vinyl siding, architectural shingles that will match the style of your house, and a certain number of windows based on the size or the number you desire! All are based on the colors you choose.
This style also has the option to add a porch to give that little extra touch as shown to the left. Choose between a porch on the front and side as shown or just out of the front!
The Best Playhouse and Clubhouse Swing Sets
Let's pick out some of our pre-designed sets! You can choose the best playhouse swing set for your family! A wide variety of options to choose from if you design your own as well!
C-2 Turbo Escape Playhouse

The C-2 is a great playhouse, a customer-favorite year after year! Providing easy access for little ones with the twelve-foot ramp plus 2 slides to enjoy for kids of all ages, a ten-foot avalanche slide plus a seven-foot turbo slide!
This playhouse swing set unleashes the imagination as they can retreat from the invading enemy with the quick escape turbo slide and it offers a quiet place to read a book or hang out with friends!
C-5 Castle Extreme Playhouse


A backyard pleaser for every customer! The C-5 castle offers plenty of deck space to play adventurous games like tag which only requires two children or capture the flag for when the neighborhood kids or family comes over! Featuring a six-by-eight playhouse connected to a five-by-five tower, with monkey bars for added fun!
For the playhouse portion, it is a simple tower! Having adequate room for two to four kids depending on their size to play, dream and relax!
C-10 Hideout Playhouse
The C-10 hideout is a great swing set for a family with multiple children. A home right in the backyard for your kids features the looks of a tiny house but the functionality of a swing set! The double avalanche slides, turbo slide, and monkey bars find the thrill seekers in the family to race down and hang up top!
For the quiet and secluded ones in the family, the playhouse offers ample space to relax and read a book or get away from the family and rest your eyes in peace!
No matter the situation, it is great for you, a parent, to allow your kids to have a space of their own to dream, imagine, and create a world of their own. The Playhouse swing set gives them the power and the tools to do so! Check out our pre-designed sets or create your own with our 3D design center!
Stay up-to-date on all new playhouse swing sets and designs plus discounts!