Choosing a vinyl playset or swing set for your children can vary based on your child's age. Older children have developed motor skills, meaning they can hop, skip, and jump with more control! Challenging their muscles and skills on a backyard playground has great benefits, that is why we have chosen some of our favorite vinyl playsets for older children!
KC-8 Deluxe

The KC-8 Deluxe has all the features to test and challenge your kids! The warp-wall tests your kid's abilities to climb and strengthens their bones when they grab and hang from the top! This playset also features the V climb bar and salmon ladder! This backyard vinyl playset turns exercise into extreme fun!
RL-3 Sports Tower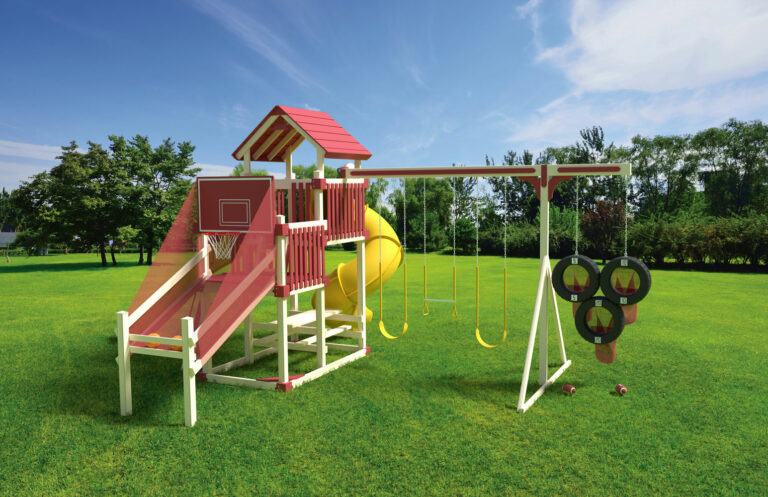 The RL-3 Sports Tower introduces your kids to sports right in the backyard! This playset features two slides, a 7′ turbo twister, and a 14′ Avalanche slide, giving this playset the maximum amount of fun! It's hard to miss the buzzer-beater hoops and QB Challenge for your children and a friend to bond, test their skills, and improve! This playset is sure to bring smiles to your children!
SK-15 Mountain Climber

The SK-15 Mountain Climber playset has all the climbing accessories! This playset features steps with a wave slide in the front, great for easy access! Also a rope wall and rock wall, plus monkey bars! Testing and building your children's agility on a backyard playset!
KTB-2 Turbo
The KTB-2 Turbo playset has 5′ and 7′ deck heights! This swing set has a 7′ rock wall offering the best climbing experience for your children! Attached is a 7′ turbo twister slide to increase the backyard adventure! A great addition to this set is binoculars or a telescope to look out on the tall deck!
When searching for backyard vinyl playsets, choose a swing set your kids can use for years and grow into. Don't settle for a smaller cheaper set right from the start that your kids will grow out of quickly, go for a vinyl playset that offers fun accessories such as slides, swings, and climbers that will bring fun and excitement to your backyard for years and years to come!