Swing sets are more than yard ornaments, they are adventure parks! Bringing exercise, fun, and fresh air to your kids, it's a great backyard addition! When it comes to your kid, you know them best, but to make it easier for you we have laid out just a few of our top-rated sets customers always find best for their children!
The A-5 playset is always a customer favorite! Simple yet full of fun, this set features a 5′ play tower with an attached rock wall, ladder, and 10′ avalanche slide bringing the maximum amount of fun to this tower! Let's not forget about the tire swing on the end of the swing beam that your child is sure to enjoy! Taking minimal space in the yard but still allowing great outdoor play!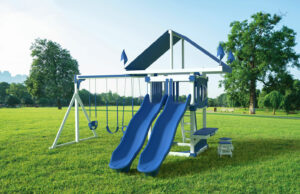 Oh, the fun to be had on this swing set! Boasting two avalanche slides allows your children or even their friends to enjoy this playset in the comfort of your backyard! Underneath the tower is a lemonade stand with two stools, packing every ounce of fun into this backyard set. This is a customer favorite that meets all ages or adds more swings to increase the fun!
Are your kids looking for an escape? Looking for their own hideout to crawl into with their brother or sister, maybe even a friend? Well, this set is just that! Fixed with working windows and interior carpets, this playhouse is a great option for your child. Also, with a 5′ turbo slide for added fun! This is a great backyard addition for your children!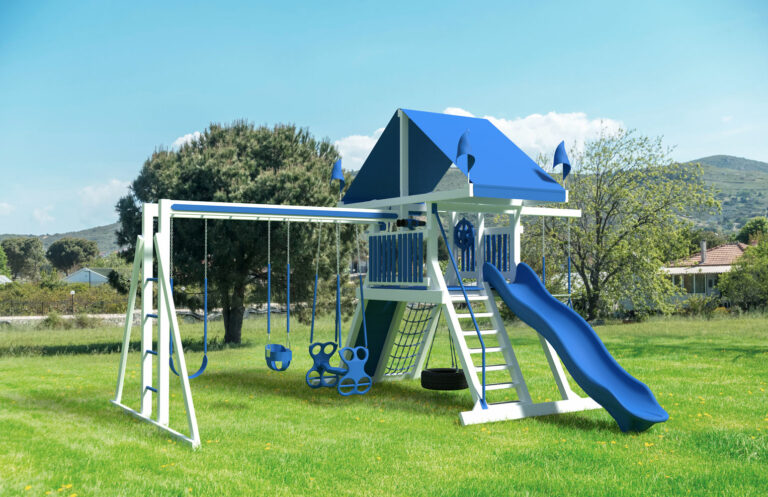 Let your kids run wild! Every inch is packed with exciting elements. The mountain climber series, especially the SK-15 is loaded with fun and is a customer favorite! Featuring a rock wall, rope wall, ladder, 10′ avalanche slide, and monkey bars, this playset is sure to burn off some energy! Customers love having this in their backyard for their kids!
With many more swing sets in our catalog, these are just a few of our customer's favorite backyard sets! Explore Amish-made playsets that are built right here in the USA by skilled craftsmen, and installed by our professional delivery crew! It doesn't get any easier than shopping with Backyard Escapes!