Looking for a backyard swing set but perhaps maybe you do not have much yard space or you want a set that doesn't fill up as much space? Well we have small swing sets you are sure to love and can accommodate your thrill seeking children!
A-1 Climber, A Cost Efficient Swing Set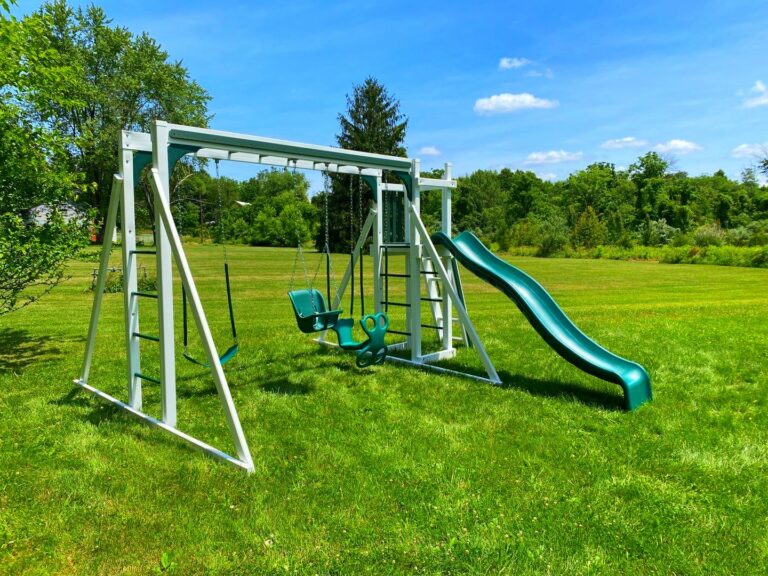 This swing set, the A-1 Climber, has been a customer favorite for year's, but why? This set is cost efficient, packed with fun and doesn't take up to much space!
This swing set with monkey bars features a 3 position climber beam meaning your kids will get the best of both worlds, climbing and hanging to challenge themselves to reach the other side, while also having 3 swing hooks to accommodate whichever swings you choose!
Also this set has a 2×2 tower with a mounting ladder to easily get back on the monkey bars, an entry ladder plus a 10′ waterfall slide!
The Perfect Space Saver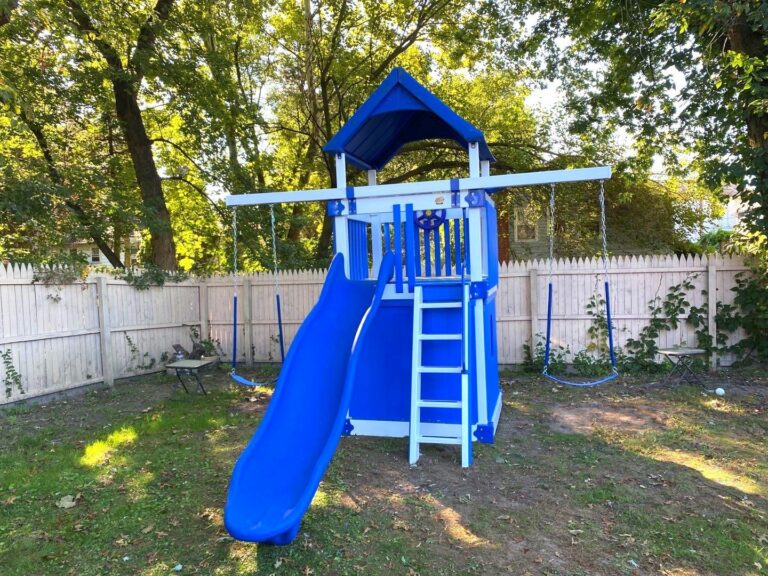 Perfect for two kid's in the backyard, the KC-1 Clubhouse fits perfectly in a corner of the backyard or nestled nicely next to the patio!
It may not have many swing's but it still packs fun! With a 5×5 tower it offers plenty of play space on the top deck. Also having a plastic rooftop this provides a cool shaded area.
The play space doesn't stop there, under this big 5×5 tower the playhouse walls create a fortress to bring your kids imagination to life. With two window cutouts you can spot the invaders coming in!
Exciting Small Swing Set
Do your kid's like to swing? The SK-3 mountain climber may be a good choice for you!
Featuring a two position swing beam and an extension arm, you can choose the perfect swings that will bring excitement to your yard! Plus a tire swing underneath for added fun!  Not taking much space in the yard, yet providing the excitement of swinging!
A ladder in the back for the younger ones and a rock wall in the front for the thrill seekers, this set appeals to a broad age range!
Pro Tip: Add a hammock swing to the extension arm for relaxing evenings
The Swing Set For Climbers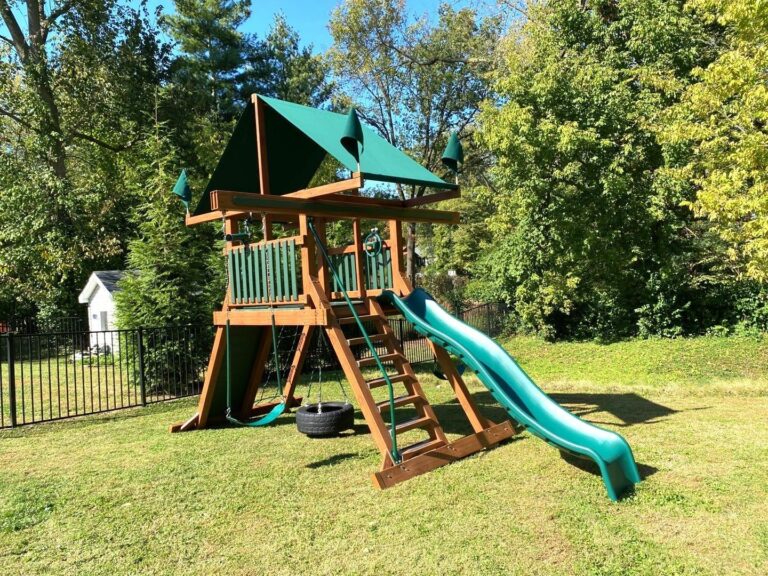 Just like the SK-3 this set is in our mountain climber series but is slightly bigger!
This set is classified as one of our small swing sets because it another space saver! The 5×5 tower is equipped with a ladder and handrail for the little ones, but for the climbers it has a rock wall and rope wall for test their agility as they climb up then slide down!
Under the tower is a tire swing as well to twirl around and laugh in joy till the sun goes down!
No matter the size of your yard, we have a set for you! Large or small swing sets are as fun as you make them. If you see a set you like but would like to change some elements, jump on over to our 3D design center and start customizing! For more idea's check our blog on The Best Budget Friendly Swing Sets On The Market!
Stay in the know about new designs, offers, and news by entering your email below ⬇️