Our 3D design center is a powerful tool when it comes to searching for a custom swing set for your kids. Having the ability to customize and interchange, while being able to visualize the final product is a great advantage. No more relying on trust and having to create an image in your head, the design center is there to simplify the process to design your own swing set! Here are the steps.
1. Start With Your Tower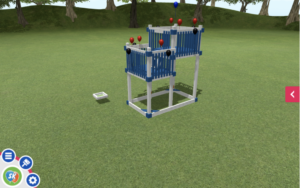 This is the base of your swing set, the core structure. You can choose from a single deck, double deck, triple deck, several style cabins, and mountain climbers.
This is solely based on your preference, some may choose the mountain climber that features the rope wall, rock wall, and ladder as standard (but can be interchanged), or they may choose the single 5×5 play deck to save room in your yard. The choice is yours!
2. Choose Your Access
You are going to need access to get into your custom swing set, so let's go through the options! Click on a black balloon and click on the ladder to bring up the options! Choose from a ramp with a railing or with rope, a ladder, a rock wall, or a rope wall.
Does your child act like a monkey and like to climb? Then the rope wall or rock wall may be a good choice for you, or perhaps they are younger so, the ramp would most likely be the best choice! You can add as many as you'd like, in the photo above we choose to add the ramp on the five-foot deck and a rock wall on the seven-foot deck!
3. Add Swing & Slides
This is where the fun happens! When adding slides and swings, it is important to keep your child in mind as well as the space you have. Ask yourself these questions:
Are they thrill seekers, meaning big slides that go fast?

Are you trying to limit the amount of space your swing set takes up?

How many swings do you need/want?

Are they daredevils that want a challenge for their swings?
Many more questions to ask yourself, but that should get you started! If they are a thrill seeker and want slides that go fast, consider the straight slides and on taller deck heights to have them zip down to the bottom. If you are limited on space and need to conserve your yard, consider the super spiral slides or the sidewinder, taking minimal yard space but still providing a fun slide!
When considering how many swings you need and the types, think of your children. Do they want to have a traditional belt swing, or do they want the surf swing to provide a fun challenge? We offer two, three, and four-position swing beams to give you the option for optimal fun!
4. Add Fun Accessories & Roof Tops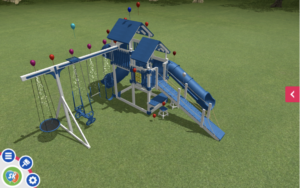 Let your children's imagination run wild, and the fun never ends! Adding the perfect accessories to your kid's custom swing set will create lasting fun that never ends and empowers their imagination with friends on the set! Little touches such as a ship's wheel and telescope to play pirates on a ship scouting the waters, or a water cannon to cool down in a fun way on those hot summer days. Don't forget about the swing beam mister and water slide adapter that even you, the parents, can enjoy in the summer!
We also have several rooftops to choose from, based on which tower you choose. Shown in the photo are our poly rooftops, but you can also choose from a plastic rooftop such as the A-Frame style or the pyramid, or choose a canvas rooftop. There is plenty to choose from and can even incorporate two as shown in the photo of our double towers!
So as described here, the 3D design center simplifies the process to design your own swing set! Allowing you to create the best swing set for your kids to grow with as well as one that fits your budget. Check out our 3D design center here and build the best set for your family!